Insurance Agency WordPress Theme is built for attraction and focusing on insurance business. It is compatible with individual agents, small or medium insurance agencies. Moreover, Insurance Pro is suitable for any other appropriate sites. This WP template is very simple to use and it is more straightforward. You can make difference from others by its SEO optimized and smart coding. Within a few minutes, you can create a professional website. This WP theme has many features that help you to make your insurance website more professional than others. so, why delay, use this insurance WordPress theme for your insurance website!
If you want to sell more or to get more conversion from your insurance website, you are on the right track. This Insurance Pro WordPress template is structured with some features to acquire the goal. In this WP theme, the design and the functionality are worked inequality. This is the best way to get more achievement from your insurance website.  SEO optimized coding, neat and clean design and marketing feature are all work in a harmonious way. This WP theme is created to ensure your success. If you want to learn more about it, you can read the text below.
Why should I Use Insurance Agency WordPress Theme – Insurance Now Pro?
This Theme is very suitable for your Insurance website.
Insurance Pro Theme is structured particularly for insurance website!
Before making any WordPress theme, we always try to do our best research on a specific niche based websites. You will be glad and eager to know that we studied on insurance business websites when we made this theme. That's why we could know that which elements are required for this insurance website. We are able to create the most updated design pattern and trend of this industry website. We expect that conversion or sales from your site will increase rapidly. So you can use this Insurance Now Pro WordPress theme.
Responsive For All Devices
You are able to glance Insurance Now Pro theme from your devices which are large or small. Everyone can use this WP theme from their handset mobile or from any kind of small devices. So, don't need to have another mobile site for your site. It is also a good news that responsive design reduces your cost too. After all, Insurance WP template will save your valuable time from creating a separate mobile website.
Insurance Now Pro helps you to get ranked easily!
We always try to our best efforts for creating our website template SEO optimized. If you use this WP theme, your Insurance website template may get easily ranked by Google. We know that SEO doesn't only depend on its content. SEO ranking depends on using code behind the WP themes too. The loading time of this WP theme is very fast because it is SEO optimized very well. We expect that your insurance site will get ranked very fast if you use this WP insurance Theme.
Great Slider For Stunning Presentation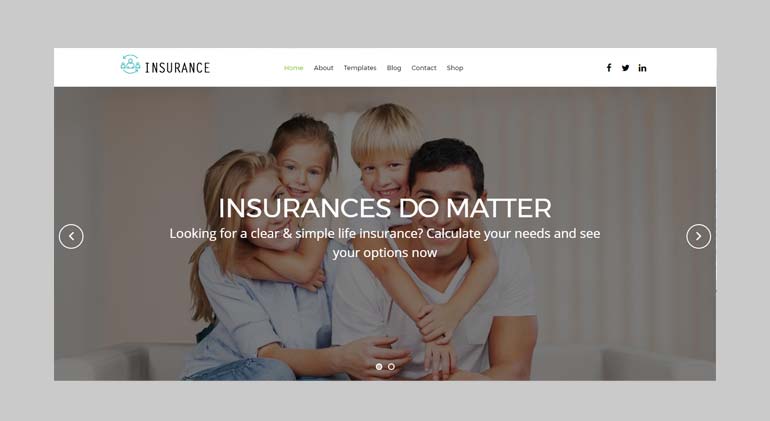 We have added a great slider in this WP theme. This slider will expose your services or products to your visitors in very short time. The conversions from your site will be increasing rapidly. Moreover, you don't need to pay any payment for this slider. That's why you can be able to save some money as well as your invaluable time.
Customization Has No Bounds Insurance Pro
You will be glad to know that you can customize your website according to your demand. Further, you don' need to do any programming on coding skill.  You will be able to change for any kind of customization using theme customizer. By using color options, you can change the color according to your need. You can change any section from your site without any troubles.
In Insurance Now Pro theme, we have added one-click demo installation. You can make your website like our demo with the help of one-click demo installation.So, this feature will save your valuable time.
Service Section For Your Insurance Website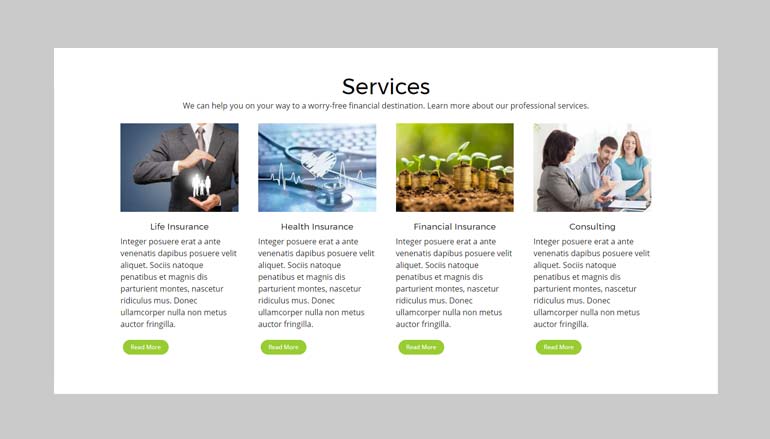 From insurance website research, we have got that an insurance website should have service section to show its provided insurances services in front of their visitors. this insurance theme has a credible Service section that can help you to do convert your visitors into real clients. So, you can use this WP theme effortlessly.
More Functionalities of Insurance Now Pro
This insurance agency WordPress theme is Woocommerce supported. So, You are able to get an eCommerce site within a short time. We have added sidebar widgets, footer widgets to show your content on sidebar and footer.  For making a successful website we have added many features that are required. We will be grateful to you if you use WP theme to your website.
Try Light Version of This Premium Theme – Insurance Now Lite
All the aspect of design and functionality has covered by this Insurance Now Pro theme that is extremely needed for a website. For justifying our skill you can use Free Insurance Now Lite theme. We recommend you politely to use this Free insurance WP theme. Insurance Now  Lite theme is fully Free to download and everyone can use it in any professional site. We expect to you buy the premium version of this Insurance theme if you like our free version. Insurance Now Pro is created with many advanced features.
WordPress Theme Support is Always Around you!
If you have any problems about this Insurance Agency WordPress Theme – Insurance Now Pro such as installation, customization, you can ask or contact us freely and cordially. We always ready to give answer those questions and try our best hard work for you.
Also, You can visit our sister website 3devstudio.com for making any kind of custom website without any hesitation.
Insurance Agency WordPress Theme – Insurance Now Pro Features At A Glance:
Shortcodes
All the themes are supplied with a great collection of shortcodes. These varieties of flexible and easy customizable Shortcodes will help you to create unique items on your site.
Google Font
We have added custom Google font including Option. Choose your loving font among a bunch of fonts, all available at Google Web Fonts.
Available on PRO Version Only
Slideshow
Interactive, HTML5, Responsive Slideshow powered by Flex Slider. You can create Awesome Slideshow with flexible options within minutes.
Contact Forms
The theme support free Contact Form 7 plugin. We have added custom design style to the plugin that will look perfect with the theme design.
Custom Styles
If you need more customization, you can easily add custom CSS in our theme options without editing core theme files. Those styles will overwrite the theme style and will not lose when upgrading the theme.
Available on PRO Version Only
Support
Providing an excellent support is our first priority. We will do our best to troubleshoot any issue connected with the theme in the shortest terms. We care about each and every inquiry.
Available on PRO Version Only
Clean Code
The theme has been developed with serious attention to detail following WordPress Org verified coding; all code has been written as precisely as possible, evenly indented, and thoroughly commented.
Custom Branding
Using a mobile-first design approach, your Make website will display perfectly across desktop screens, tablets, and mobile phones.
Available on PRO Version Only
Customize Everything
You can customize every element of our theme including Logo, Favicon, color, text, copyright text, social icons etc.
Available on PRO Version Only
WordPress.org Verified
This theme is created strictly by following WordPress.org verified coding style and all of our WordPress themes are verified by Wordpress.org Review team.
Retina Ready
Our theme is future-poof and includes ultra Retina graphics so it looks stunning on all Retina-Display and other High-Resolution screen. All theme assets are Retina Ready.
Available on PRO Version Only
Responsive design
The Theme is fully Responsive. It works perfectly with any device on any Size PC, tablet or smartphone with all touch sensors.
Theme Options
Powerful Theme Options, Use it to modify styles to your needs. Easy replace logo, background image, menu, slider, fonts, social icons, and footer; add custom CSS and much more.
Unlimited Color
You can change theme colors from the Theme Option panel. There is no limitation for colors. You can customize theme color easily.
Available on PRO Version Only
Testimonials
There is a custom post type for organize the testimonials showcase. Grid, carousel and slideshow style is available. There is a Shortcode available for your testimonials.
Available on PRO Version Only
Easy Installation
Easy 2 minute setup. Quickly install the theme via WordPress admin or FTP. Import demo data is super easy just click on some buttons and you are done.
Sample Data Available
We have built a demo content importer. Simply click the button and you will get the demo pages, posts, slider, widgets, theme options and other settings, it will allow you to setup your site just like our demo in a minute.
CSS3 Animations
Our theme includes interactive CSS3 animations for Shortcodes. The animation will start when viewer scroll the page. It's a great way to grab the viewers' attention on your content.
Traslation Support
Our Theme is translation ready. We have included a default .PO language file for you. So you can translate the theme with your own language easily.
RTL Support
Need RTL? No problem, it is built-into the theme! This theme supports all rtl languages like Arabic and Persian. So, you can make any language website.
Available on PRO Version Only
Font Awesome Icons
The entire Font Awesome icon set is integrated into our theme. You can access all Font Awesome icons via Shortcodes. User can also choose different sizes and colors.
Typography
We include over 600+ Google Font in the theme. In theme options you can easily customize the font size, font family and color for each and every fonts of the theme. So you will have full control of the fonts
SEO Ready
Our theme is ready to help you get higher rankings. We built the theme with SEO best practices in mind. The HTML and CSS code of the theme is fully SEO ready. For further features, we recommend using SEO by Yoast Plugin.